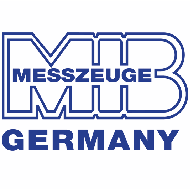 MIB was founded in 1977 by Wolfgang Meurer as a general agency of MEBA Yugoslavia and STORM Italy under the name of Messzeuge- und Industriebetriebstechnik. The distribution of analogue measuring tools started in a small office in Spangenberg, North Hesse. In 1980 the company was moved to the former Hotel Schützenhaus, the parents' property. From a meeting point for dance and society, a successful company emerged which distributes measuring instruments worldwide until today.The first participation at the Hardware Fair in Cologne in February 1980 proved to be an ideal platform for the international expansion of the sale of measuring technology. Due to its success, participation has been maintained to this day. The first agencies in Holland, Belgium and Italy developed into a supplier of measuring tools with agencies in 32 countries. With the worldwide expansion the first special brochure of MIB-Messzeuge GmbH was published in 1985 with special offers for specialist dealers.

In the mid-90s, measuring technology was also increasingly digitalised, to which MIB responded with a strong expansion of its product range. The demand for the new measuring technology was great and as a result of the rapid increase in orders and constant growth, the company was rapidly expanded and in 2007 equipped with an extension with new offices and large storage areas.

The entry of Philip Meurer as Managing Director sealed the generation-spanning continuation of the company. For more than 40 years, MIB has been an integral part of the worldwide specialist trade for measuring tools. The company continues to focus on the development of new precision measuring instruments and technical innovations from all over the world.