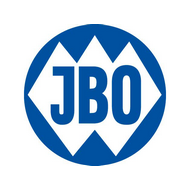 Zero comprimise production
JBO is one of today's international leaders of thread processing and testing technology. Now in our sixth generation, we develop and produce our products without compromise at our site in Albstadt. For almost one hundred years, we have been consistently specialising in threads, allowing our worldwide partners to profit from the extensive knowledge that we have gained. A further success factor is based on the special machinery that we continue to develop for the efficient manufacture of thread cutting dies and thread gauges.

It is of paramount importance to our company that we react immediately to the challenges and requirements of our customers and to market demands. Continual innovation, quality products, a passionate commitment to service, active process management, high standards and cost effective solutions are the cornerstones of our company philosophy. The competence and commitment of our employees make it possible to successfully and continuously achieve these goals – we are very proud of this fact. Employee development is therefore an important building block for us in our company's progression. It is imperative for us to provide our customers – today and in the future – with solutions which are more sophisticated, more efficient and more economical and stay in line with market needs.

WE THEREFORE WARMLY WELCOME YOU TO ACQUAINT YOURSELF BETTER WITH JBO.